STEP 1
Why are you renovating?
Before you start knocking down walls it's important to decide whether you're renovating to add value to your home, or to make more space for your family.
If you're renovating with a view of making more of a profit when you sell your home, you'll have to consider your renovations from a buyer's viewpoint. Instead of asking yourself "What do I want?" ask "What would potential buyers want?" and design your plans around that.
If you're renovating for your own liveability you can be a little more selfish. Just remember, at some point you will sell your home, so it pays to consider every change carefully.
STEP 2
Get practical
It's a good idea to understand what you're working with before you call in the tradies.
A good check list of questions to consider includes:
How much space is available?
Are your foundations solid?
How is your wiring and plumbing?
Which kinds of tradespeople are you going to need and what can you do yourself?
If you're planning a major renovation, you may find the build cost per square metre more than if you were to simply knock down your home and start from scratch (or perhaps even relocate).
It's also important to understand the impact the renovation will have on your everyday life. Can you live with the dust and the noise? Can your family manage without a bathroom or a kitchen for several weeks?
And of course consider the financial impact the additional loan repayments may have on your day-to-day cash flow.
STEP 3
Understand the regulations
If you're renovating for profit, ensure you calculate the current value of your house before you start. An independent valuation can help, or visit your local real estate agent for an estimate.
Also, be sure to check the council regulations in your area. Take the time to understand their building approval process, the average time approvals take and any required permits. If you're renovating an apartment, you'll also need to consider any strata restrictions.
It's a good idea to organise your permits ahead of time to avoid delays and if you lack building experience, it might be a good idea to hire a project manager to oversee your renovation.
STEP 4
Plan your budget
Take time to work out all the costs involved in renovation and get itemised quotes from several reputable tradespeople. Get as much detail as possible so you understand what the quote does and doesn't cover before you compare quotes.
Always make sure the people you hire are registered, licensed and insured.
Realestate.com.au
has some great renovating tips.
Don't forget miscellaneous costs that might arise, such as increased costs from eating out while your kitchen is out of action.Working out your costs and affordability will ultimately help keep stress levels down throughout the renovation project.
STEP 5
The fun part
Now you can enjoy the creative part of renovating – the design.
If you're renovating for profit, keep your buyers in mind and stay with neutral colour choices and classic styles that enable your potential buyers to put their own stamp on their new home.
A few other considerations include:
How well will your renovation blend in with your overall home plan and current décor?
How environmentally friendly and energy efficient will your renovation be? Check out the Australian government tips here.
If you're renovating for a quick profit be careful not to over capitalise. You may not want to invest as much into the project as you would if the renovation were to help you and your family continue to grow in the home for the next 10 years.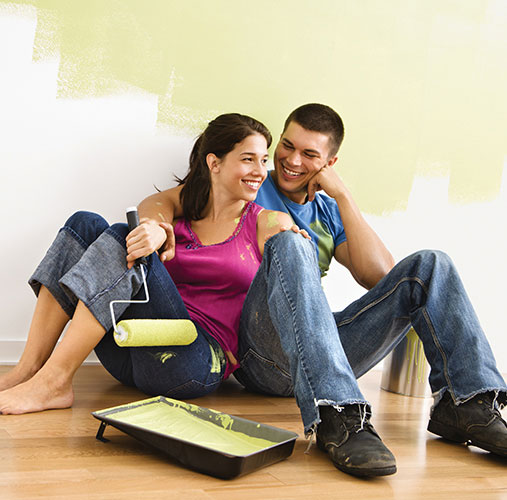 STEP 6
Finance
If you don't want to budget and save for the entire renovation, Australian Military Bank offers a specialist construction loan. Our construction loan is designed for structural renovations to residential buildings and allows you to borrow up to 95% of your property value.
We also have a range of
personal loans
available that offer low rates and a great range of features and benefits.