STEP 1
New goals for a new you
Making the choice to leave the Defence Force can be an exciting and challenging next step in your chosen career. But it also gives you the opportunity to look to the future and plan the next chapter of your life.
Setting some clear career, family and personal goals and having a roadmap to follow can be the key starting point to making the transition to a positive and exciting move.
We recommend creating S.M.A.R.T goals for the first 3, 6 and 12 months. Make sure your goals are:
Specific
Measurable
Attainable
Realistic
Timely

And remember, once you're a member of Australian Military Bank you remain a member for life. Whether you're currently serving, working as a civilian or retired.
STEP 2
Your questions answered
You're likely to have a stack of questions and concerns about leaving the Defence Force. We recommend checking out the
Australian Defence Force's FAQ
page. It's full of useful information to give you a clearer picture of where you stand.
It also offers a range of handy seminars to help you make the transition, and a comprehensive transitions handbook to help you plan for your future.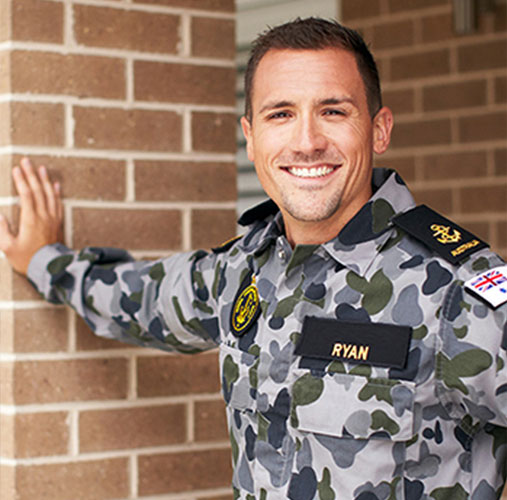 SETP 3
Career planning
It's important to have realistic career goals when you leave the Defence Force. It can be useful to ask yourself a few tough questions:

Do I plan on using my current skills in my future career?
Would I prefer a complete career change to a different field?
What training and qualifications am I going to need in the future?
Can I afford to take time off to study and gain new skills?
Do I have any contacts in civilian life who could help me?
It's also important to realise just how many of your current skills will be transferable to other occupations. Your time in the Defence Force is likely to have given you:

Strong leadership qualities
Powerful problem-solving skills
Excellent communication skills
Calmness under pressure
Take the time to compile a list of all the skills and accomplishments gained and developed while you've been in the Defence Force. You'll find this extremely useful when you're creating your résumé and starting to apply for jobs.
The
Job Outlook
website has useful information – and don't forget the ADF also offer a range of
support
including:
Career Transition Training
Career Transition Management Coaching
Résumé Coaching
STEP 4
Get practical
You'll have 12 months to work through all the various steps that form part of the transition from the Defence Force to civilian life – and it's vital to make the best use of this time. This handy
checklist
of practical considerations will help you prepare; explaining what to do as each month passes.
One of the most important considerations you'll need to give some thought to is where are you going to live? Consider factors such as access to services, local career opportunities and the affordability of property when evaluating your options.
Remember, the Australian Defence Force also offers formerly serving ADF members assistance under the
Defence Home Ownership Assistance Scheme (DHOAS)
. You will need to contact them to understand your entitlements, but this Scheme gives you a great start to your life as a mortgage holder.
STEP 5
We have your back
Once you're a member of Australian Military Bank you remain a member for life. Whether you're currently serving, working as a civilian or retired, Australian Military Bank will be able to serve you and assist you with your banking.

We're always here to support you with any of your financial, insurance or savings needs and will continue to offer you comprehensive services and award winning products.