STEP 1
Set a realistic goal
Before you start saving it's a good idea to think about a realistic goal. It can be helpful to decide what type of goal you're aiming for:
Short term: A goal you can reach in a few months or a year, such as saving for a holiday or small purchase.
Medium term: A goal that may take 2-5 years to reach, such as saving for a home deposit or your children's education.
Long term: A goal that may take 5-10 or more years to achieve, such as saving for a second property or for your retirement.
Consider how much you want to save, over what period of time and whether you need to achieve your goals by a certain date.
STEP 2
Balance your budget
The truth is that a solid savings foundation relies on a good budget. Many people feel they don't have enough money to save, but often after they've carefully reviewed their budget, they find a number of possible economies that could release money for savings.
Work out a
realistic budget
that honestly reflects your income and expenses. Then attempt to stick to this budget for a few months to see if it's manageable.
A good budget will show you where you could be saving more. Yes, it may mean sacrificing a few little luxuries (is that third cappuccino really essential?), or require you to try something new (like heading to the library rather than buying the latest novels). But when you reach your end goal, it will all have been worth it.
STEP 3
Finding the right rate
There are pros and cons to both fixed term investment accounts and variable at-call savings accounts.
Fixed rate accounts: For example, Term Deposits, generally pay you more interest, but limit your access to money should you need it for an unexpected emergency.
Variable accounts: Offer you the flexibility of easy access to your money, but usually at a lower interest rate.
STEP 4
Compare savings accounts
With your goals firmly in place, consider a savings account with Australian Military Bank.
We have a range of flexible savings accounts that offer competitive interest rates. They're simple to set up, offer 24/7 access and you're eligible for the Australian Military Bank Relationship Reward.
Our simple savings account comparison table lets you compare accounts and decide which one best suits your needs.
Our expert, friendly advisers are also available to chat through any questions you may have – call us on 1300 13 23 28.
STEP 5
Super simple savings tips
We're often asked for savings tips to help boost savings and reach your goal faster, so we've compiled this little checklist of questions to get you started:
Do you have a vice you'd like give up (or even reduce a little)? Perhaps you can drop that second cup of coffee or limit chocolate to a certain day of the week?
Is it time you bit the bullet and asked for a pay rise? That way you could automatically put it towards your savings plan.
Could you shop around for your weekly groceries and find more affordable prices?
Did you get a little extra on your tax return? Consider saving it rather than splurging it.
Try emptying your entire spare change into a moneybox at the end of the day and paying it into your savings when it's full. It worked when we were kids and works for adults too!
Have you recently had a promotion and pay rise? Try saving the extra money and live off your previous salary.

Just think – every $5 you save will bring you closer to your end goal.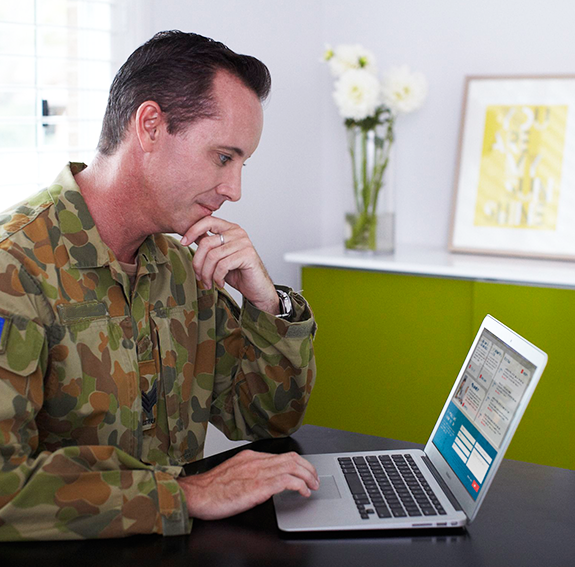 STEP 6
Start a savings account
Applying for a savings account with Australian Military Bank is simple and straightforward.
You can apply online, at one of our branches or over the phone.