STEP 1
Why refinance?
People choose to refinance for a number of reasons, including:

To take advantage of a lower interest rate
Free up extra cash by reducing monthly repayments
Additional funds for home improvements or renovations
Consolidate debts and loan repayments
Pay off their home loan faster

Others may choose to refinance at the end of a fixed term loan, or when life circumstances change, such as leaving the Defence Force, moving to a bigger home, or retirement. Whatever your reason to refinance, we're here to help.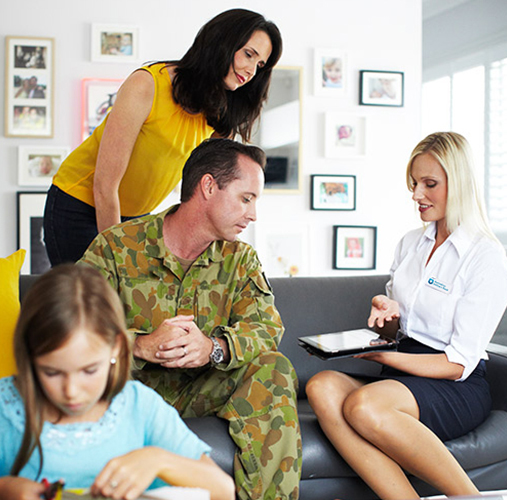 STEP 2
Small savings make a big difference
Refinancing can be a great way to save money, and you'll find even the smallest of monthly savings soon add up. We recommend staying on top of interest rate changes,
as even a quarter of a per cent reduction can mean a sizeable change in your interest repayments over the life of the loan.
STEP 3
Consider everything
While the thought of saving on interest repayments and freeing up cash through loan consolidation can be appealing, it's important to be aware of extra charges that you may incur with refinancing. These can include:

Application fees
Early exit fees
Early repayment fees

You'll need to calculate to see if the savings you'll make with refinancing are greater than the fees you'll have to pay. If you still want to refinance, it may be worth paying any fees upfront so you can take advantage of the lower interest rate sooner.

Also, be careful of lengthening your loan period when refinancing to a new financial institution. Even though it may seem like you're better off with a lower interest rate you could quickly forgo any savings when the interest is increased over a longer term. For example, if you have 20 years outstanding on your loan term, and you extend to 25 years, that's an additional 5 years of interest accumulation.
STEP 4
Compare home loans
We've created a simple home loan comparison tool, which lets you compare loans quickly and easily.
We've got loans for first-time buyers, renovators and investors, and we have a range of special DHOAS home loans just for people in the Defence Forces.
Our expert, friendly advisers are also available to chat through any questions you may have – call us on 1300 13 23 28.
STEP 5
Apply for a loan
Applying for a home loan doesn't have to be stressful; in fact, our process is simple and straightforward. Whether you're after pre-approval or formal approval, we're here to help. You can
enquire online
, at one of our
branches
, by phone or you can make an appointment with a mobile banker to visit you.
You'll need to provide details of your income, expenses, assets, other loans and credit cards. And, if you're thinking about applying for a
DHOAS loan
, you'll need to get a subsidy certification from the
Department of Veterans' Affairs
first.